The Telecom Defense Limited Company's SS7 Cloud Scanner service is a web based SS7 penetration testing tool allowing properly trained operator and regulator staff to generate adhoc SS7 signaling messages towards a mobile network, in order to test defenses against common SS7-based threats. The solution includes access to a user interface (which can be accessed using any web-browser, an Internet connection and valid user credentials) from which SS7 commands can be formated and sent, as well as behind the scenes SS7 connectivity including use of a Global Title from a valid roaming partner that allows successful delivery of signaling messages towards the mobile network's SS7 nodes.
While the service is not intended to replace a full SS7 penetration test conducted by an experienced auditor, it is intended to allow the operator's engineering staff to test the proper behavior of SS7 filtering rules implemented in an STP, or the proper triggering of rules in an SS7 firewall. Such ad-hoc tests from the external plane are recommended each time rules are altered.
The SS7 Cloud Scanner is capable of generating any MAP message involved in common threats outlined in the GSMA FS.11 document.
Basic knowledge of SS7 is required in order to properly format each message and its parameters. A training on SS7 vulnerabilities is recommended for users of the service.
SS7 messages generated by the SS7 Cloud Scanner reach the operator from the external interfaces of its SCCP carriers, just as real attackers' traffic would, and accurately test any filtering rules or defenses in place on the network, including existing SS7 firewalls.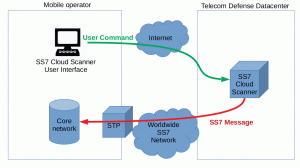 The service is also suitable for regulators, who can use it to periodically verify compliance of its operators with a country's SS7 security regulations.
The service is sold on an annual license basis, with each license covering a single destination mobile network. Discounts are available to large operator groups or regulators who need to test multiple networks or opcos.
Please contact us for a quote.